Waste Management Routing
How 9 Municipalities Are Reducing Collection Services by 30%
The non-profit organization Local Government Economic Services (LGES) has been providing logistical and project management services to local authorities in Israel for almost half a century.
A subsidiary of The Federation of Local Authorities, LGES facilitates various tender processes on behalf of Israeli public authorities. They help towns, cities, municipalities, and regional councils with all aspects of their operational processes: from digital infrastructure, human resources, and education to transportation, sanitation, and waste management.
Based on a business model unique to Israel, LGES was founded from a desire shared by Israeli municipalities to pool their resources. The agency helps local governments implement state-of-the-art technology to achieve their smart city ambitions and improve the quality of life.
Reduce the number of collections
Reduce overflowing waste
Gain transparency about container fill levels and services

Waste Fractions: General waste in underground and semi-underground containers.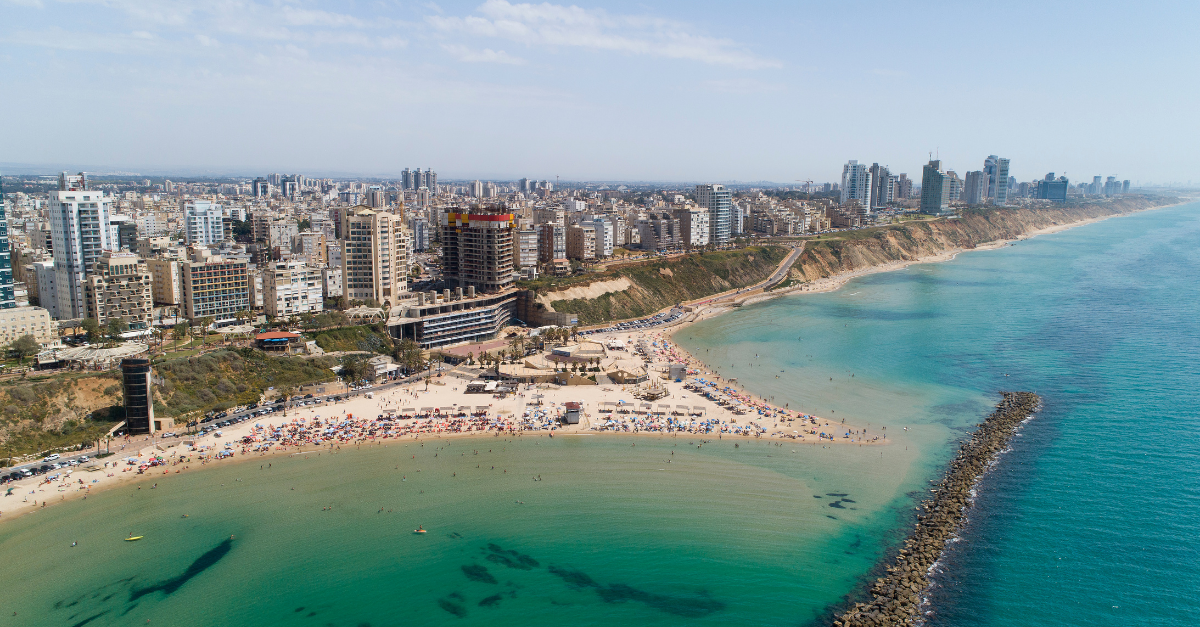 The city of Netanya in Israel.
"Thanks to our smart solution, all of our municipalities are consistently seeing the same positive trend – reduced collection services, fewer overflowing bins, more transparency, and better collaboration. We're able to gather data on waste service processes as  part of our sanitation vertical, which provides us with new, actionable insights and comprehensive solutions, as part of our bottom-up approach for scaling SaaS services to our municipalities."
- Moti Hai, Innovation Product Manager at LGES.
Gaining Transparency About Fill Levels
With resident numbers on the rise, maintaining a clean environment in local areas is a growing challenge for waste services across the globe. And the Israeli waste authorities are no exception. A key issue stemmed from the fact that municipalities had no idea of how full or empty their waste containers were. Therefore, waste collection was carried out in a traditional and static manner. It was all based on assumptions with fixed collection routes to ensure that all containers were serviced, regardless of fill level.
The Smart City Approach:
Predicting Waste Generation Patterns
Smart cities start with data. And this data-driven approach is key to future-proofing waste services. Collecting and monitoring data from the operational level of waste and sanitation verticals is crucial to understanding waste generation patterns and improving services.
But more importantly, the data empowers waste authorities to learn from trends. The insights enable them to predict bin usage and waste behavior.  Ultimately, data helps city authorities stay one step ahead. And this vertical waste data can additionally be monitored and analyzed horizontally, benefitting other municipal verticals while providing a well-rounded foundation for efficient city management.
Tailoring Smart Waste Management to the Israeli Public Sector
In November 2017, LGES teamed up with Nordsense to provide smart waste management tools for real-time waste disposal. After speaking to a number of smart solution providers, LGES  decided to join forces with Nordsense due to the competitive prices on hardware and software subscriptions.
But above all, the opportunity for flexibility is what swayed LGES. The chance to partner up with an organization that can modify its solution to fit the operational demands of the local waste management eco-system prompted LGES to work with Nordsense.
And thanks to their unique industry experience, LGES has become a vital collaboration partner for Nordsense. Their insights enable us to constantly
improve the smart waste solution, adjusting our offering to individual municipality needs.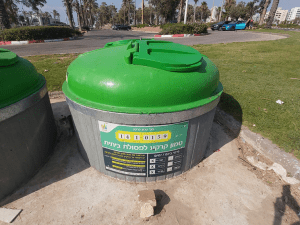 Smart Sensors in Nine Municipalities
LGES has now successfully introduced smart waste management to nine municipalities in Israel, including the Municipality of Netanya. Known for its work towards a smart city transformation, the Municipality of Netanya is home to over 250,000 residents and Israel's seventh largest city. They primarily use sensors in underground containers for general waste.
Results: Reducing Collection Services by 30%
Real-time data on fill levels and dynamic routing has enabled the Municipality of Netanya to optimize its processes and reduce collection services by 30% on average.
Prior to using smart waste management, almost half of the weekly waste services occurred when fill levels were below 40%. In other words, the municipality was using almost half of its resources on unnecessary pickups.
After installing smart sensors and getting real-time data on fill levels, this number dropped dramatically to 4%.
Sensors have made further service optimizations possible. Prior to the smart waste project, 78% of collections were dedicated to servicing bins that were less than two-thirds full and therefore not ready for pickup. With remote fill level monitoring, over a quarter of these services have now been saved.
Real-time data insights are empowering the municipality to avoid servicing bins that are empty or only half full.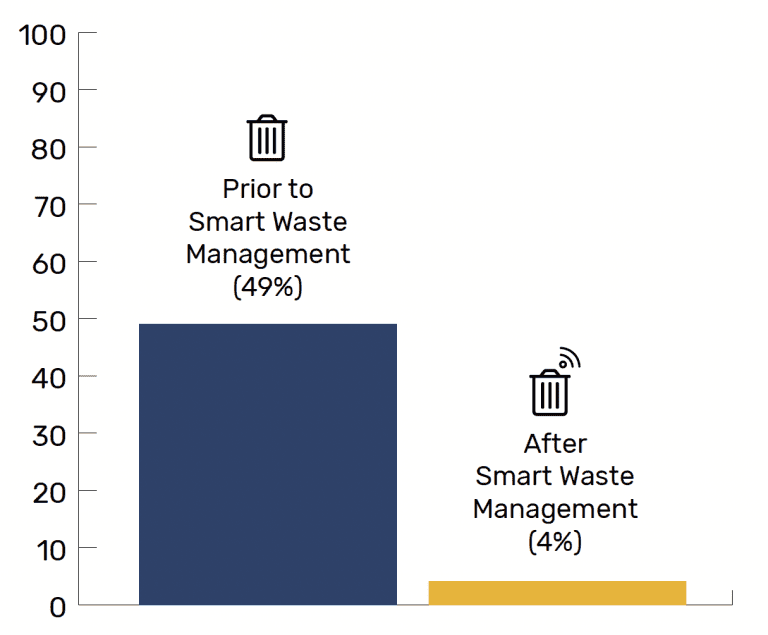 Waste Services Occuring Too Early (%)
Servicing Containers at the Right Time
Since the municipality did not know how full their containers were, they also lacked the necessary insight to service bins exactly when they needed to.
Before using smart sensors, only 41% of containers were serviced at the optimal time. Thanks to real-time data, 81% of containers are now serviced at exactly the right time.
Dynamic Waste Collection
All of LGES's municipalities are pioneering the future of waste management with intelligent routing and the Nordsense Navigator app. They have waved goodbye to traditional waste services based on fixed routes and now run their underground waste collection in a fully dynamic and event-driven way.
Local areas in the Municipality of Netanya have transitioned from a fixed daily collection round with two garbage truck drivers covering 130 bins each to dynamic routes that vary each day. Collection rounds now range from 76 to 96 bins per driver per day, depending on fill levels and waste needs.
"The results are crystal clear – dynamic collection routes are the future of waste management. Not only does it lead to higher levels of efficiency, but it also results in a more engaging and meaningful work environment for garbage truck drivers and waste collectors."
Moti Hai, Innovation Product Manager at LGES.
More Meaningful Work for Drivers and Waste Collectors
Dynamic waste collection isn't just about cutting down on costs and optimizing resource allocation. It's also about improving working conditions for waste collectors and garbage truck drivers.
Representatives from LGES spent over 100 hours riding along in garbage trucks on the streets of Israel in order to understand the needs and daily work of their end users. This has empowered Nordsense and LGES to develop the intelligent routing app so it benefits waste collectors and drivers.
Nordsense Navigator provides turn-by-turn directions and alternative routes to enable drivers to service containers in a way that makes the most sense for them. In this way, the app becomes a guide to help drivers carry out their tasks in an efficient manner. All while still enabling them to make key decisions on the efficiency of collection routes.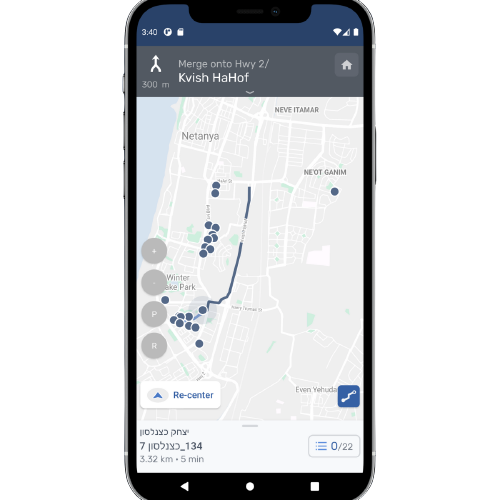 Installing Underground Containers
The majority of containers in the Municipality of Netanya are fully underground. This means that the installation process requires extra planning and coordination, as some containers can only be accessed with a crane.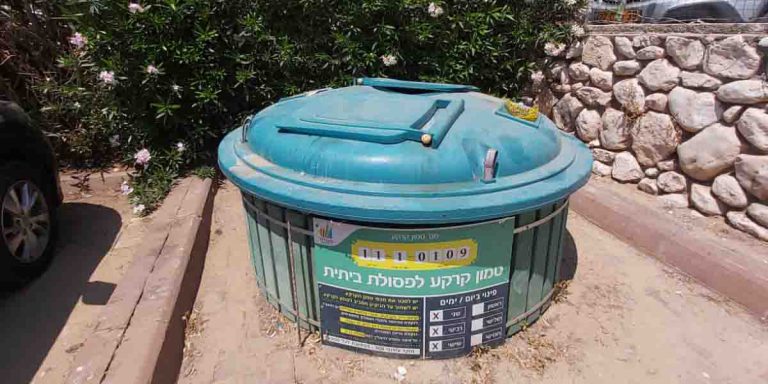 Changing and Adapting to New Ways of Working
Challenges are a natural part of any change process – including adapting to a smart solution. A structured approach to change management and adequate training are crucial for the success of smart waste projects.
All Nordsense smart sensors are designed for harsh environments with an IP67 certification rating. But like any piece of hardware, sensors can still be damaged if they are improperly handled. And some waste collectors can be quite rough when emptying bins, which can impact sensor installations.
Waste collectors require training in new ways of working to ensure that sensors and sensor mountings are not unnecessarily stressed and subjected to rough handling.
About LGES
LGES is a non-profit consultancy for the public sector in Israel. Specializing in handling tender processes for Israeli municipalities, LGES helps local governments improve the standard of living and transition towards smart city initiatives with new and innovative technology solutions.
Curious how the Nordsense solution can help optimize your operations?