The Spanish clothing bank operator Moda re- has selected Nordsense as their waste meter supplier and partner as they embark on a data-driven journey towards more efficient and sustainable collection services.
Data-Driven and Carbon-Efficient Clothing Bank Collections
The non-profit organization Moda re- is Spain's largest network of second-hand clothing stores. They want to decrease their environmental impact and reduce carbon emissions by 30% when servicing their +7,500 clothing banks. The Nordsense solution enables Moda re- to optimize collection routes dynamically based on real-time data from containers.
It means that Moda re- can prioritize popular clothing banks and get to bins before they become too full – which is the crucial point when donations are often left on the street and become contaminated and unusable. A digital overview of containers with insights on usage levels is empowering them to collect even more textiles with lower emissions of polluting gases.
At the same time, the Data team at Nordsense has been working closely with Moda re- to identify additional value in the data. Exploring how changing fill levels in the clothing banks can be used to identify theft and testing how accurately a stolen container can be tracked are among the many possibilities for further optimization.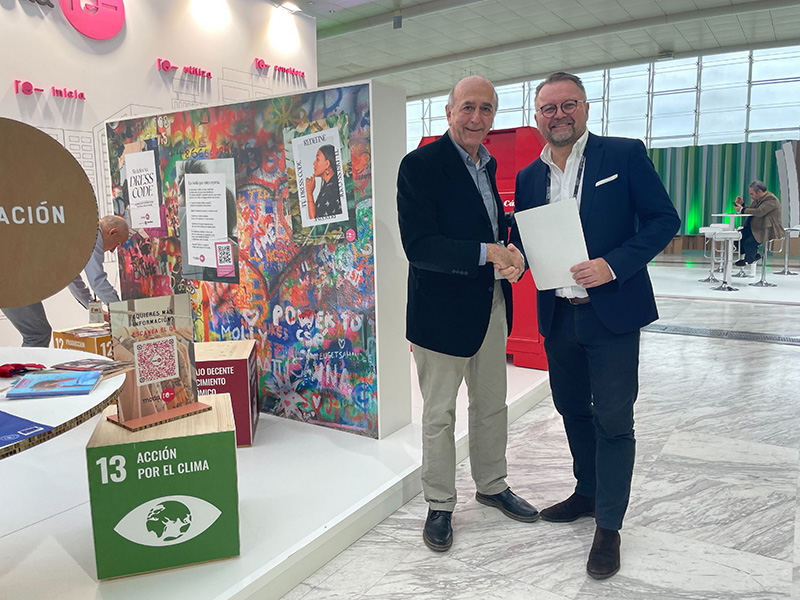 Albert Alberich, CEO of Moda re- and Roar Bolt-Hansen, VP Sales EMEA at Nordsense present the partnership at the CONAMA conference in Spain.
Moda re- is a key player in textile reuse and recycling in Southern Europe, and sustainability remains top of their agenda. Together with Nordsense, the clothing bank operator is now able to run more carbon-efficient services so they can reduce driving distances and their carbon footprint.
"Our goal is to effect positive social and environmental change by reusing and recycling textiles and generating job opportunities. Like most non-profit organizations, we work with somewhat limited resources. So, installing smart sensors in our clothing banks is helping us optimize and get the most out of what we have. Gathering data on our operations means that we can collect more textiles, help more vulnerable people, and reduce our emissions to fight the increasingly worrying climate emergency," said Alberto Egido, Chief Sustainability and Circularity Officer at Moda re-.
"Welcoming Moda re- on board is a milestone event for us. We're thrilled to be working with them, and we're excited to see the impact of data solutions at scale in the resource management sector," said Roar Bolt-Hansen, VP of Sales EMEA at Nordsense.
About Moda re-
Moda re- is the social project of the Spanish Cáritas Confederation. It manages the collection, reuse, preparation for recycling, social donation, and sale of textiles. Based on a circular economy, they work to be leaders in creating social employment and efficiently managing textile recovery, reuse, and recycling processes.
About Nordsense
Headquartered in Copenhagen, Denmark, Nordsense is on a mission to make the world's waste and resource management more sustainable with data insights and waste meters.