Smart waste business cases
Learn more about how we have helped others with our waste management solution. Get insight into how we have created value for our clients and learn more about how we can help you to create value and save costs.
Smart waste management is redefining how we think of waste all around the world. The industry is evolving, and it is important now more than ever to reduce costs and keep the cities cleaner. We are facing waste related problems all over the globe and an increasing number of people are realizing this. One of the solutions are to achieve and maintain smart waste management. There are unlimited benefits to gain from focusing more on smart waste management. This is regardless of whether you represent a whole city, an organization or maybe a waste operator.
With an increased focus on smart waste management one of the benefits is the possibility to save costs. This because of route optimization, resource handling and monitoring where needed at all times. Optimizing the collection processes of waste will furthermore improve the overall workflow as well as reducing the carbon footprint.
Do you want to stop wasting time and start saving costs? We are ready to help you. If you want to know more about how we have helped others you can download our cases in the form above.
Sign up to our newsletter, get the case stories and receive the latest news from Nordsense.
By subscribing to our newsletter, I agree that Nordsense may send me information about their products and services via e-mail and store my personal information in compliance with Nordsenses privacy policy. I can withdraw my consent at any time.
San Francisco experienced
66 percent decrease in street cleaning service requests.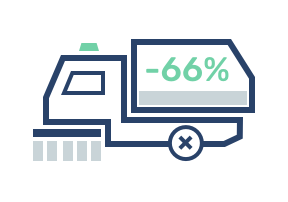 80 percent decrease in overflowing trash cans