Smart waste business cases
Learn how the NordSense waste management solution has helped our clients save money while improving services. See how we can help you create value and save costs.
Smart waste management is revolutionizing an industry facing a worldwide struggle to reduce costs while keeping our cities cleaner. An increasing number of people around the globe are realizing that the status quo is no longer acceptable and that the best solution is to develop and maintain smart waste management. Regardless of whether you represent a whole city, an organization, or a waste operator, the benefits from focusing on smart waste management are undeniable.
The key benefit of the Nordsense smart waste management solution is cost savings through improved route optimization, resource handling and monitoring. Your increase in efficiency will not only save money, but also improve overall workflow, as well as reducing your carbon footprint.
Download cases
Do you want to stop wasting time and start saving costs? We are ready to help. If you want to know more about how we have helped others, please download our case studies by filling out the form below.
San Francisco experienced:
A 66% decrease in street cleaning service requests.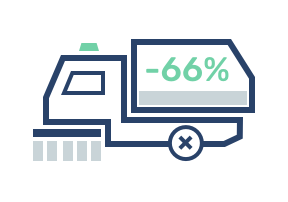 An 80% decrease in overflowing trash cans.