How San Francisco Reduced Overflowing Waste by 80%
San Francisco's Department of Public Works was up against thousands of street cleaning requests per year, unsanitary streets, illegal dumping, vandalism to waste containers, and disgruntled citizens. They needed a new approach to waste management and decided to embark upon a smart sensor journey.
Dive into the full story below and discover how a data-oriented approach is helping to keep the streets of San Francisco clean.
Download The Case
Do you want to transform your waste efforts to become greener, cleaner, and smarter? See how we have helped San Francisco transition to smart waste management and drastically cleaner streets.
Download our case study by filling out the form below.
San Francisco achieved:
A 66% decrease in street cleaning service requests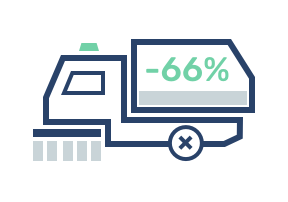 An 80% decrease in overflowing trash cans