More than one-third of the world's food never makes it to our plates. It ends up in the bin – past its sell-by date or tossed as an excessive purchase. According to National Geographic, food waste is worth almost a staggering USD 1 trillion.
But it isn't just the financial implications that are alarming. The moral aspect of food waste is equally worrying. An estimated one in nine people on this planet don't have enough to eat. These people could be fed on less than a quarter of the food that is wasted in the USA and Europe each year.
The environmental consequences of all this food waste are also severe. The global food system is responsible for as much as 30% of our global greenhouse gas emissions.
The Food and Agriculture Organization of the United Nations defines food waste as "food appropriate for human consumption that is discarded or left to spoil at consumer level". With more than half of food waste happening at home in developed countries, it's vital that we start taking action to fight food waste.
This article discusses three ways to fight food waste: recycling programs based on smart waste sensors, food sharing apps, and tips you can implement at home.
How to Fight Food Waste with Recycling
Making the most of our food and drink is key to reducing excess food. But some food waste is unavoidable. For example, eggshells and banana skins will always end up in the bin. Many municipalities offer local food waste recycling collection services that help you dispose of leftovers and anything you can't eat. The food waste can then be recycled into soil improver or fertilizer. It may even be used to generate electricity.
Depending on where you live and your municipality's waste policies, your local waste authority will provide you with a food waste caddy and special bin liners so you can easily separate your food waste for recycling and composting.
Increasing recycling rates is a tricky task. Changing people's behavior around food waste recycling – and recycling in general – is no easy feat. Studies show that factors such as convenience, communication, and education are key to boosting participation levels in recycling programs. And a data-oriented approach might hold the key to a successful recycling initiative.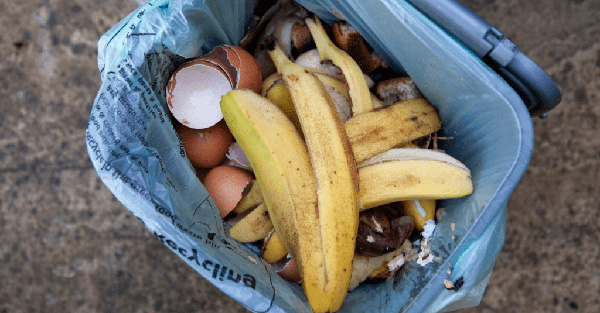 Smart Waste Sensors and Food Waste Recycling
Smart waste sensors are small devices that measure the fill levels of bins. They leverage IoT technology to provide data on waste collection services, including recycling programs. The sensors provide data insights on waste generation patterns and can help municipalities understand and improve local recycling trends.
Using Data to Supplement Campaigns
Smart sensor data helps waste authorities get a clear overview of baseline recycling levels. Once a starting point is established, they can subsequently measure, monitor, and optimize their action plans. This kind of data can be particularly useful when used in combination with a waste authority's communication plans. This can be a valuable tool for evaluating the effectiveness of campaigns.
Making Food Waste Recycling More Convenient
Smart waste sensors can also uncover correlations between recycling rates and convenience. The data can show walking distances between bins and homes. This can then be cross-referenced with data on fill levels and collection frequencies. This helps municipalities identify areas for optimization, such as installing more collection points in certain areas.
Comparing Food Waste Recycling Levels
The data are additionally useful for comparing recycling levels between local areas. With tighter budgets and more ambitious targets, knowing where and how to prioritize limited resources is vital for municipalities. A data-driven approach to recycling enables municipalities to focus more on underperforming areas, while also providing the opportunity to learn from areas with better recycling rates.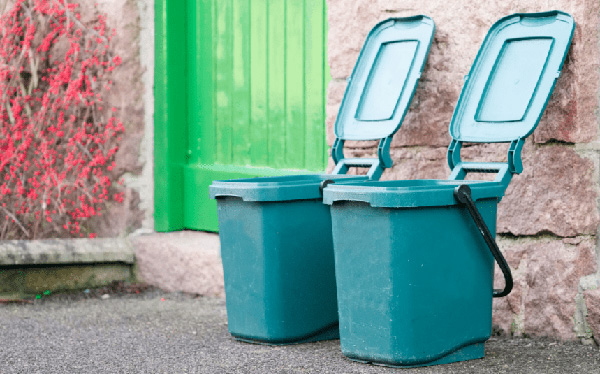 How to Fight Food Waste Digitally
We have everything at our fingertips thanks to accessible technology. A culture of sharing via our smartphones and apps is part of our daily lives. And food sharing is no exception. Today, there are a range of food sharing apps that are helping to fight waste and connect local communities. We've highlighted two food waste apps below.
Too Good to Go
Too Good to Go is an app that connects customers with restaurants and stores that have surplus food destined for the bin. It essentially links businesses' leftovers with hungry bargain hunters. Founded in 2015, Too Good to Go saved its first meal in Copenhagen in March 2016, and since then the organization's visionary ideas have quickly expanded to 17 countries, including the UK, France, and Norway. Today, there are over 47 million users and over 99 million meals have been saved all over the world.
The Too Good to Go app is a direct way to get involved in fighting food waste. After downloading the app, you can easily search for specific meals based on location, type of food, or collection time. The app also offers their trademark "magic bag". It enables customers to buy discounted surplus food that hasn't sold in time while still letting businesses claw back a little profit.
OLIO
Founded in 2015, OLIO connects neighbors with each other and local businesses so surplus food can be shared instead of being thrown away. OLIO is all about networking and sharing within the local community. The app enables you to pick up food nearing its sell-by date in local stores, share your home-grown vegetables, or get rid of your groceries when you're about to leave town. The app has been successfully used in 59 countries. Almost 5 million people are OLIO users.
The OLIO app is for anything edible, no matter if it's loose, raw, cooked, unopened, or opened. The app has a "free sharing" option for surplus food and food past its "best before" date. It also has a "made food" option, which covers homemade food from a licensed kitchen or homegrown produce, like eggs and fruit. After downloading the app, you simply add a photo, description, and collection information for your surplus food.
How to Fight Food Waste at Home
Below, we've gathered three quick and easy tips for you to take small steps to reduce the amount of food going in the bin.
Leverage Your Leftovers
Turn your unwanted leftovers into delicious new meals instead of throwing them out. Love Food Hate Waste is a charity organization in the UK that can get your creative juices flowing. They have an entire digital library packed with tips on how to make the most of your extra food, especially over the festive period.
Freeze Your Food
A large proportion of your food and grocery shopping can be frozen, before or after cooking. This can add weeks or even months to expiry dates. Freezing leftovers and surplus food will not only help cut down on food waste, but it also provides quick and convenient meals. Make sure you're aware of safe storage techniques and which foods are freezer friendly.
Plan Your Meals
Meal planning is a useful tool for cutting back on excess food, especially when it comes to the festive season. During the winter, we are prone to overconsuming and overindulging. Unfortunately, we end up wasting a lot of food. In the UK alone, 2 million turkeys and 74 million mince pies are left uneaten every year. Creating set menus for guests or simply thinking ahead can help you reduce the amount of festive food going in the bin.
Fight Food Waste with Technology
Fighting food waste plays a key role in achieving global sustainability targets. Digital technology is helping us cut down on the amount of food that ends up in the bin. On an individual level, food sharing apps have made it convenient and profitable for consumers and businesses to share their unwanted or unsold leftovers. On a local government level, smart waste sensors can help waste authorities increase recycling participation rates by digitalizing their waste operations and using data to understand recycling behavior and trends in communities.
Explore How Smart Waste Sensors Can Help You Fight Food Waste.