More and more people are flocking to urban areas. And it seems like every city is looking to smart solutions to solve the environmental, social, and infrastructural challenges of today. IoT (Internet of Things) plays a huge role in the smart cityscape, transforming our urban zones into intelligent, connected networks and interactive hubs.
Data insights are the key player in smart cities and are used to manage assets, resources, and services more efficiently, while providing officials with crucial information to make better business decisions.
Smart waste management is just one of multiple components that can constitute a smart city. Cities face huge inefficiency challenges in the waste sector as almost 90% of waste across the globe is collected at the wrong time. Powered by IoT, smart waste solutions use fill level sensors and dynamic routing to help cities optimize their waste resources so they can collect waste at exactly the right time.
But what exactly is a smart city? And how are smart solutions being used today? This article dives into the realm of smart cities and provides an overview of how and why IoT solutions are being used to optimize public services.
What is a Smart City?
The term "smart city" is broad and can encompass a variety of inventive initiatives and creative solutions to deal with pressing urban issues. In a nutshell, smart cities are all about using technology and innovation to tackle the problems of increasing urbanization and improve resident's quality of living and well-being.
A Smart City Is:
Citizen-centric – The needs and well-being of citizens are the guiding star for the adoption and implementation of IoT innovations.
Sustainable – Making the most of limited resources through optimized processes and initiatives that promote a positive environmental impact is top of the agenda.
Data-driven – Cities use data insights to analyze, monitor, and manage their resources and services to make intelligent business decisions.
Urbanization seems to be a never-ending phenomenon with over half of the world's population living in cities today. And that number is set to rise to over two-thirds by 2050. Cities all over the world are facing increasingly complex challenges due to this rapid growth in urban populations. Problems with infrastructure, resource scarcity, air pollution, and waste management are just a handful of issues that are leading to cities becoming less livable. And as they struggle to achieve environmental, social, and economic sustainability, cities are looking to smart innovations as a potential solution.
Smart cities use technological innovations that provide data insights to gain more efficiency, productivity, transparency, and sustainability. IoT technology is utilized to receive, analyze, and manage data in real-time to help cities make better decisions that improve the standard of living. Infusing real-time data into decision-making and operational processes in cities enables swift action towards developing more future-oriented urban areas.
Discover how cities around the world are achieving their smart city goals thanks to smart waste sensors.
Smart Cities and Smart Waste Management
Smart waste management uses IoT sensors in bins to automatically send data on fill levels to waste collectors. This provides municipal waste services and waste management companies with real-time data on waste generation patterns and behavior. The data empower them to shift away from pre-planned pick-up schedules that are often out of touch with the waste needs of growing cities and move towards dynamic collection services.
As the number of city dwellers rise to new heights, cities and municipalities need to handle waste collection for more and more people. This requires a complete rethink of how they deal with waste. And this is where smart sensors and dynamic collection services come in.
Find out more about how to get started with dynamic waste collection services.
Overflowing bins and dirty streets are a common challenge in major cities. Waste needs fluctuate and do not always follow a historic pattern – the global pandemic is a prime example of this. Yet, the majority of cities maintain static, fixed collection schedules that are not based on real-time needs. Smart sensors empower municipal waste services to remotely monitor the fill levels of bins in real-time so they can service bins as needed. This means that bins will be serviced before they reach the point of overflow, providing residents with a cleaner living environment.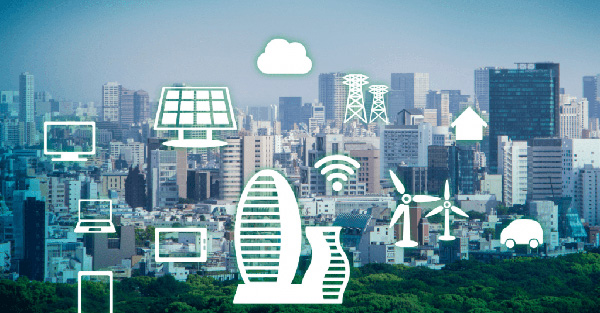 Smart City Solutions
Many smart city solutions fit seamlessly into residents' daily lives – so much so that you may not even realize that you are using them.
Smart Traffic Lights
Smart city solutions can help ease traffic congestion. Sensors can be installed in traffic lights to adjust the cadences and timing to respond to real-time traffic and reduce blocked roads.
A traffic light system that can learn, predict, monitor, and respond to real-time transport situations and demands is a central element of a smart city. Smart traffic lights are adaptative, which means that they gather data on vehicle numbers and the weather, so they can adjust their signal lengths in real-time. Instead of lights changing at pre-defined intervals during the day, lights can change according to real-time traffic needs. The data insights help improve traffic flow and reduce congested city streets.
Smart Streetlights
Energy efficiency is a key part of smart cities. That's why street lighting is powered by smart solutions in many major cities. LEDs and smart sensors are installed in streetlights, enabling cities to gather data on their surroundings. The insights provide key information so they can adjust the lighting and brightness of lampposts according to weather conditions and the availability of natural light. This means that instead of street lighting turning on at fixed and pre-planned intervals, cities are able to simply adjust their lighting according to real-time needs.
The Future of Cities Is Smart
Creating an infrastructure and urban space that is fit for the future is a key part of smart city ambitions. Smart cities are based on IoT technology, but it's vital to remember that they start first and foremost with people. The overriding ambition for any smart city project should be about making a positive impact on the lives and well-being of its residents. IoT technology is an enabler to help city decision-makers plan for the future and create more environmental, social, and economic sustainability.
If you're curious to learn more about how smart waste management solutions can help you achieve your smart city goals, get in touch with our team today!