Why Digital Systems Are Crucial For Waste Hauling
Today's waste hauling market is more competitive than ever. Customers across the globe are demanding more sustainability, transparency, and efficiency. And with technological advancements at our fingertips, it's easier than ever to take control and provide full operational transparency to your customers.
Digitalizing your waste collection processes by using smart sensors will help you become more transparent and meet these growing market demands. By gathering data and information on your operations, you will be uniquely positioned to showcase the best parts of your waste hauling business, increase customer loyalty, long-term profitability and win new business.
What Are Data Insights for Waste Haulers?
A smart waste solution provides you with a clear overview of container fill levels and the efficiency of your collection services. And all of this information is available remotely. This means that you can differentiate your offerings from your competitors by eliminating unnecessary vehicles on the road that drive around servicing empty containers. Armed with real-time data, you can schedule pick-ups exactly when needed and cut down on your fuel consumption and carbon emissions.
This article explores why data provided by smart waste sensors has quickly proven to be the way to achieve more sustainability, transparency, and efficiency in waste hauling.
1. Increase the Sustainability of Your Waste Hauling Services
Sustainability is top of mind for customers today. And when it comes to reducing emissions in waste collection, people often think of excess fuel and the pollution caused by garbage trucks. According to the Washington Post, moving to electric vehicles could save as much as USD 100 million in fuel per day. But it's still very early days and a tall order before we can make the switch to electric-powered garbage trucks. And even with an eventual move to electrification, we will still need to optimize our approach to waste hauling. Introducing smarter ways of working will be key so we can increase the range of trucks and ensure that we are using as few vehicles as possible.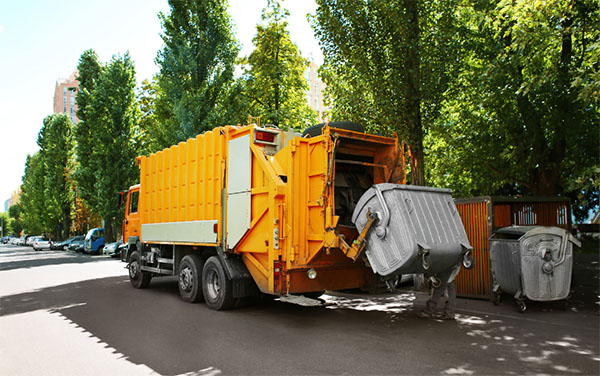 Today, sustainability reports on waste operations and services are highly sought after by customers. And this is something that smart sensors can help with. Smart sensors gather data on your waste operations by measuring fill levels, movements, location, temperature, and other data points inside containers. Sensors also provide information on collection routes and how often containers are serviced. These insights are linked to an online platform, meaning the data is accessible from anywhere and at any time.
You can use all of this data to give customers insight into your efforts in the sustainability arena. You can calculate driving time and the number of miles driven by your vehicles. This means that you can also gauge your carbon footprint as a hauler and prove to customers in black and white that you are managing their waste in the most carbon-efficient way possible.
Discover the Top 10 Questions To Ask When Selecting a Smart Waste Sensor
2. Increase Your Transparency as a Waste Hauler
Today, there is increasing pressure on companies from all industries to increase their transparency. It's a top demand from both new and existing customers. Transparent companies generally gain a competitive advantage, better profitability, and stronger partnerships. This means that running a transparent waste hauling business is no longer a "nice to have" but a "need to have".
Data is a key enabler for transparency. A digitized overview of your hauling operations helps you openly share information with your customers. This is exactly what you get with a smart waste management platform like Nordsense.
What Does Transparent Waste Hauling Look Like?
Below, you can see an example of an online service log from the Nordsense dashboard for a waste hauler based in the USA. This hauler primarily services restaurant chains with large waste containers that require services several times throughout the week. The smart waste management solution provides a full overview of all services and details how full containers are when picked up.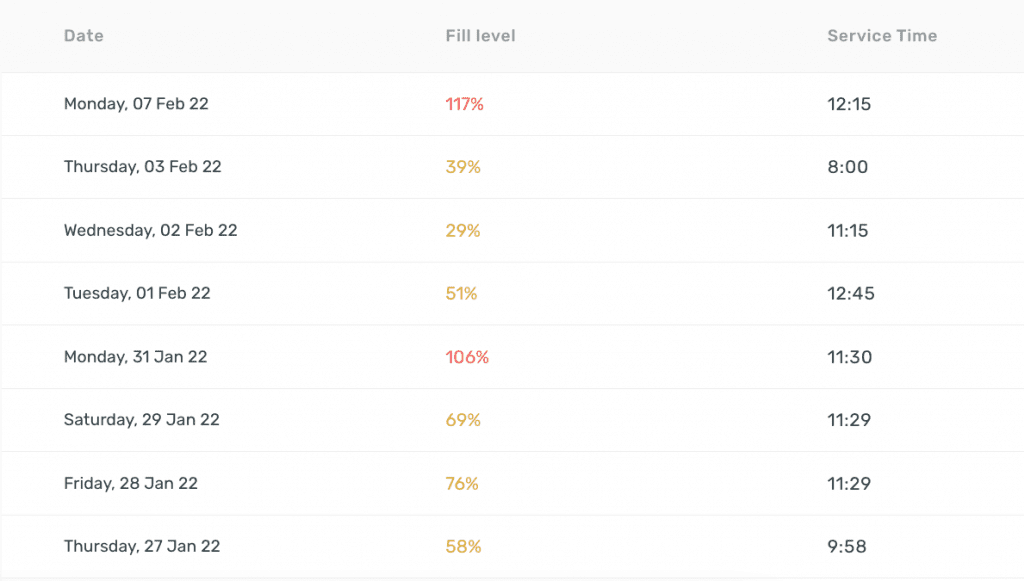 Here, the customer's problem is clear. Their current services don't match their waste needs.
The static pickup schedule simply can't keep up with their container usage. This is a common challenge today: large containers struggle to hold the line with complex waste cycles, unpredictable waste generation patterns, and changing consumer behavior.
The result is that this customer is dealing with a lot of full and overflowing bins.
On Mondays, this customer's particular container is overflowing, but when the trucks come by on Tuesdays and Wednesdays, the container is almost empty. This overview shows how they could benefit from using an event-driven approach – in this case, removing their mid-week service and adding an extra service on Friday.
Prioritizing Waste Hauling Services
This extract of the hauler's containers also provides a transparent overview for prioritization. By displaying how long it takes for containers to become full, you can rightsize your containers, adjust and adapt their collection routes, skipping containers that take longer to fill up and prioritizing hotspot containers.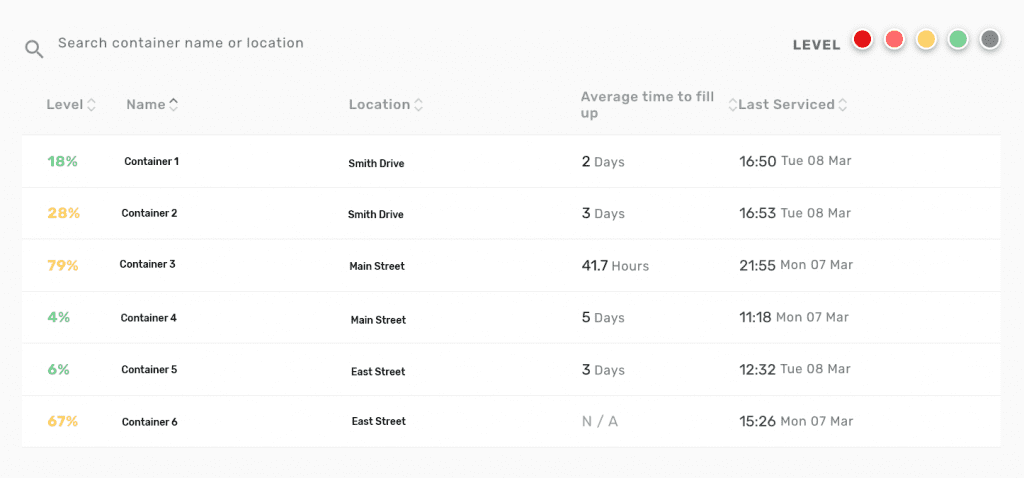 Using the data shown in the two extracts above, this waste hauler can take steps to provide more customer-centric and data-driven services.
A smart waste management solution is in its essence very simple. It shows you how waste is being picked up and provides actionable insights into how it should be picked up.
3. Increase the Efficiency of Your Waste Hauling Services
There's no two ways about it: traditional waste management practices are highly inefficient and will soon become obsolete. Scheduling collections services without knowing beforehand whether containers are full is outdated. There is simply no future in emptying air.
Static waste services are becoming more and more out of step with our changing consumer and waste generation behavior. Customers are pressuring the entire industry for more optimization and demanding digitalized and data-driven waste hauling that is more in line with their core needs. Isn't it better to be a step ahead instead of a step behind?
The ability to prove the efficiency of your waste hauling services is a key differentiator in a highly competitive market.  And creating a better product for your customers will keep you one step ahead. Imagine a system where you are empowered to constantly improve your pickups, anticipating your customers' needs almost seamlessly – that is exactly what data-driven waste hauling empowers you to do!
Get Started with Data-Driven Waste Hauling
Data and digitalization can help you deliver on the growing customer needs for efficiency, transparency, and sustainability. The data provided by smart sensors can help you stand out in a highly competitive market and future-proof your waste hauling business in the face of changing waste generation behavior.